Preview
A preview is available at Google Books.
Reviews and Commentary
"Laura Vivanco's analysis of the category romance is both meticulous and inspiring. And while Vivanco limits her examples and discussions to category romances by Harlequin Mills & Boon and the HQN imprint, her application of Frye's mimetic modes begs for expansion to texts and authors across the genre. This piece of literary criticism should serve as a template for romance scholars to move from defending the genre to discussing its values and complexity as a literary art." - Maryan Wherry, in the Journal of Popular Romance Studies
"At last - a critical work on romance that I can recommend as a balanced, knowledgeable and informed read!" - Kate Walker, author of over 50 Harlequin Mills & Boon romances
"This book is [...] both clever and honourable in its approach -- a rare and admirable combination. The cleverness lies in Vivanco's use of Northrop Frye's literary modes [...]. The honour is in the book's readability and friendliness to anyone interested. Much contemporary litcrit [...] has [...] an unrelenting elitism in the use of very polysyllabic and abstract jargon with which even specialists struggle and which is for the general reader usually an insurmountable barrier. Vivanco, contrariwise, makes her clever thinking seem straightforward, and writes easily and well." - John Lennard (my editor)
"Readers of genre fiction often grow tired of justifying their particular taste against charges of literary inferiority. Not so [...] Laura Vivanco, whose closely reasoned and wide-ranging academic defence of Harlequin Mills & Boon novels – For Love and Money – was published this week." - Spurtle
I don't think Vivanco has studied these generic, formulaic novels in the most interesting way. I have worked on very similar fiction, mass-market novelettes published in the 1890s. I got nothing of interest by looking at their literary quality, but found vast amounts to write about when looking at them as book history. Thinking about these novels as part of daily reading, and looking at their context is fascinating for understanding their readers' reading tastes, and how much they would pay for it. Janice Radway did this in 1984 (Reading the Romance) for the American romance market. Looking at how Harlequin Mills & Boon romances are marketed, and what exactly their formula is, and why it works so well, would be valuable socio-literary book-history. - Kate Macdonald, at Vulpes Libris)
To proclaim that the mass-produced romances of Harlequin (or of Mills & Boon, the company's name in the UK) are not only worthy of analysis in a cultural studies context, but that they embody "literary art," [...] is to open oneself up for knee-jerk ridicule from academe. Which is why I so admire Laura Vivanco's courage in writing and publishing her monograph, For Love and Money: The Literary Art of the Harlequin Mills & Boon Romance. Bucking the cultural studies trend of previous literature, sociology, and psychology scholars who have written about category romance, Vivanco instead meets literary scholars on the field of literary value. - Jackie C. Horne, at Romance Novels for Feminists
For Love and Money in the Classroom
Professor Eric Selinger has written at Teach Me Tonight (1) and (2) about his experiences of using For Love and Money in ENG 383 (Women and Literature: Popular Romance Fiction) at DePaul University and he concludes at The Popular Romance Project:
If you're a teacher—not just at a university, like me, but a community college or high school—this book lets you teach some first-class close-reading skills in a fun, accessible context. (It also won't break student budgets, which they increasingly appreciate.)
The Cover
When I started to think about the cover of For Love and Money I knew I wanted it to include an image which would symbolise Harlequin Mills & Boon. Obviously I couldn't use any of their logos: they belong to Harlequin Mills & Boon and I didn't want to imply that the company endorses my book. I did, however, draw inspiration from them.

J. Herrera's 3D "rosa roja" (made available under a Creative Commons licence) was a little more shiny than what I had in mind, but once I'd printed it onto white paper and cut it out, it was just the right texture.  I then took another piece of white paper, cut a rhombus-shaped hole in it and folded back the edges. My rose could then 'grow' out of the rhombus-shaped hole, as though it were emerging from the book itself. With the white paper placed over a black background, low lighting to create shadows, and a tiny bit of digital manipulation, I ended up with this photo: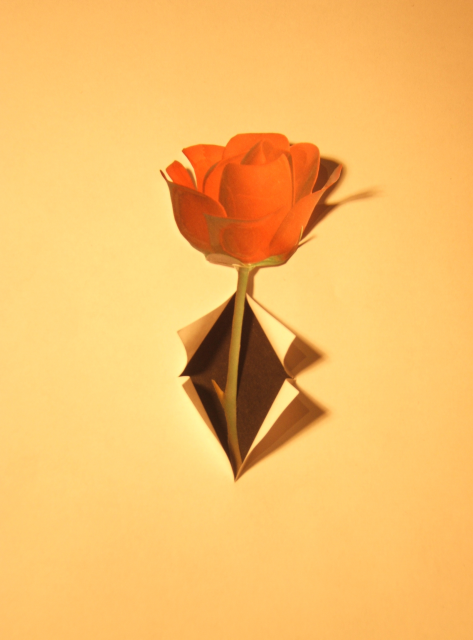 My publisher then added the text and changed the colour of the background to make it a more eye-catching shade of yellow/orange.
Both the Harlequin and the Mills  & Boon logos draw on existing iconographic traditions. Harlequin's is clearly based on the Commedia dell'arte character of Arlecchino, who wears a "diamond-patterned costume". The Mills & Boon rose has changed over the years but was presumably chosen because of the flower's romantic associations. As for the rose on my cover, the way it which it emerges from a slit in the paper seems rather apt in the context of the sexual symbolism I discuss in Chapter 4.
Blogging about the Book
Rules and Romance - at Liz Fielding's blog
Mass Production and Formula - at the Pink Heart Society
For Art or Money? - at Read React Review (via the Internet Archive)
Medievalism, Me and HM&B - at She-Wolf
Australian Romance - at the Australian Women Writers blog (via the Internet Archive)
Where to Buy
Ebook (PDF): ISBN 978-1-84760-195-7 from Humanities Ebooks
Print (paperback): ISBN 978-1-84760-196-4 from Amazon .ca .com .de .es .fr .uk, Barnes & Noble, The Book Depository.co.uk, The Book Depository.com and Lulu
Kindle: ISBN 978-1-84760-197-1 from Amazon .com .de .es .fr .it .uk