Wakefulness as a measure of masculinity is a facet of the history of gender in America that has received no attention at all. Recent gender studies have pursued many facets of male experience and identity, often fixing on dramatic expressions such as extreme muscularity and myriad forms of aggression. But mundane manly stamina, as displayed by persevering through long days or nights on the job, has thus far gained little notice. Fulfilling the familiar male breadwinner role entailed a daily dedication to struggle to maintain consciousness as a basic test of strength. For many American men, winning bread meant losing sleep. (Derickson x)
Now that I think about it, I'm fairly sure that one can find sleeplessness as a marker of masculinity in romance novels too because I have a feeling there are quite a lot of heroes who sleep relatively little. I'll certainly be trying to spot examples in the future. What about Edward, in Twilight, who famously spends a lot of time watching Bella sleep? Of course, he's an immortal vampire. For mortals, as Derickson notes,
Although not as self-evident as the link between somnolence and accidents, the role of sleep loss in producing chronic disease has been established by researchers for numerous disorders. These include ulcers and other gastrointestinal ailments, depression and other psychiatric conditions, heart attacks and other forms of cardiovascular disease, and diabetes and other metabolic disturbances. Some evidence links short sleep to elevated rates of cancer. (xii)
Romance novels can reflect concerns about overwork/lack of sleep too: there are heroines who're concerned about heroes who seem tired and overworked.
I can also recall scenes in which a heroine thinks that her hero looks touchingly vulnerable and boyish when he's asleep. Those scenes would seem to affirm the association between sleeplessness and masculinity, but in a way which perhaps suggests that where there is love, there is no need for constant masculine vigilance. I'm reminded of the story of Samson:
One day Samson went to Gaza, where he saw a prostitute. He went in to spend the night with her. The people of Gaza were told, "Samson is here!" So they surrounded the place and lay in wait for him all night at the city gate. They made no move during the night, saying, "At dawn we'll kill him."

But Samson lay there only until the middle of the night. Then he got up and took hold of the doors of the city gate, together with the two posts, and tore them loose, bar and all. He lifted them to his shoulders and carried them to the top of the hill that faces Hebron.

Some time later, he fell in love with a woman in the Valley of Sorek whose name was Delilah. The rulers of the Philistines went to her and said, "See if you can lure him into showing you the secret of his great strength and how we can overpower him so we may tie him up and subdue him. Each one of us will give you eleven hundred shekels[a] of silver."  [...]

she said to him, "How can you say, 'I love you,' when you won't confide in me? This is the third time you have made a fool of me and haven't told me the secret of your great strength." With such nagging she prodded him day after day until he was sick to death of it.

So he told her everything. "No razor has ever been used on my head," he said, "because I have been a Nazirite dedicated to God from my mother's womb. If my head were shaved, my strength would leave me, and I would become as weak as any other man."

When Delilah saw that he had told her everything, she sent word to the rulers of the Philistines, "Come back once more; he has told me everything." So the rulers of the Philistines returned with the silver in their hands. After putting him to sleep on her lap, she called for someone to shave off the seven braids of his hair, and so began to subdue him. And his strength left him. (Judges 16, NIV)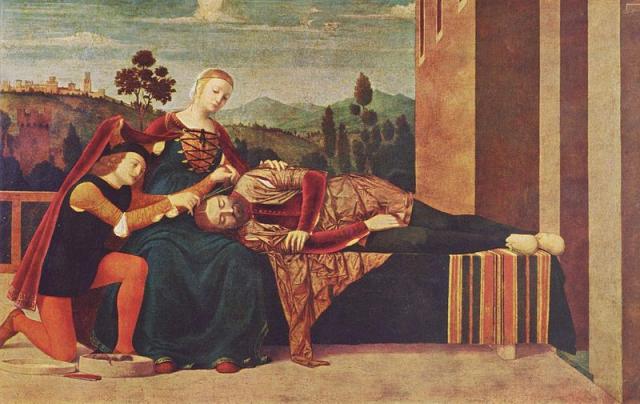 Derickson, Alan. Dangerously Sleepy: Overworked Americans and the Cult of Manly Wakefulness. Philadelphia, Pennsylvania: U of Pennsylvania P, 2014.
Image of "Samson and Dalila" by Francesco Morone via Wikimedia Commons.