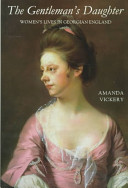 I'm probably going to be moving house soon, which means I'll have to part with quite a few of my books. I'm treating this as an opportunity to take a break from my current project and concentrate on books I've been meaning to read for a while; one of them is Amanda Vickery's The Gentleman's Daughter: Women's Lives in Georgian England (there's a detailed review here). Vickery's description of their lives and beliefs suggests that women who might be considered doormats by the standards of many modern romance readers would have seen their own behaviour rather differently:
it was a commonplace that the strict performance of duty generated a degree of secret pleasure, and ladies were relentlessly tutored on how to reach and enjoy the moral high ground: 'You must also learn to be satisfied with the Consciousness of acting Right', counselled Lady Sarah Pennington, 'and look with an unconcerned Indifference on the Reception every successless Attempt to please may meet with,' while Eliza Haywood promised 'Sweet indeed are the reflections, which flow from a consciousness of having done what virtue and the duty owing to the character we bear in life, exacted from us ...' Women's own letters and diaries do suggest that many did their duty to a round of inner applause, finding a certain exaltation in it. Ladies accepted patriarchy in theory, although, strikingly, the assertion of male authority often proved much more acceptable and manageable coming from fathers than from husbands and brothers. Still, when wronged, genteel women rarely questioned the justice of the gender hierarchy; rather they bemoaned the fact that their menfolk departed so sorrily from the authoritative masculine ideal. That said, none of the women studied here expected to endure tyranny [...] and they were fully conscious of what was owing to their dignity and rank. While not above the occasional exhibition of an almost theatrical feminine inferiority when petitioning for favours, the habitual self-projection of most was of upright strength, stoical fortitude and self-command. To be mistress of oneself was paramount - genteel ladies aimed to be self-possessed in social encounters, self-controlled in the face of minor provocations, self-sufficient in the midst of ingratitude, and, above all, brave and enduring in the grip of tragedy and misfortune. Abject feminine servility was the ineradicable mark of the kitchen maid not her employer. (8)
Samuel Richardson's Pamela Andrews and Jane Austen's Fanny Price may not appeal to modern readers as much as the outspoken Elizabeth Bennet, but they are "brave and enduring in the grip of tragedy and misfortune" and, in their own ways, they show a great deal of strength. They may begin their stories rather closer to being kitchen maids than employers but by the end of the novels in which they appear these heroines have been rewarded for their fortitude and virtue with more than "a round of inner applause": they are firmly embedded in the ranks of the genteel.
-----
Vickery, Amanda. The Gentleman's Daughter: Women's Lives in Georgian England. New Haven: Yale UP, 1998.