Like Aliette de Bodard, I have recently finished reading Rachel Hartman's Seraphina, a fantasy novel with romantic elements. Unlike her, I enjoyed it. Now that could be because, unlike her, I did not read it
mainly because it was recommended to me as a great portrayal of a mixed-race protagonist: its eponymous heroine is half-dragon, half-human in a world where a fragile peace reigns between the two species. Seraphina is the Music Mistress at the court of the human queen of Goredd, where she passes as human in order to avoid the deep-seated prejudice and fear engendered by dragons (who are able to take human form but are betrayed by their silver blood and their odd smell).
It's an intriguing setup; but in the end, I'm sad to report I was somewhat disappointed by Seraphina and its portrayal of race relationships.
I wonder, though, if another reason I enjoyed it is that I'm a medievalist at heart despite my move into popular romance scholarship and the religious beliefs and race relations in Goredd seemed to me to resemble those I came across while studying medieval Castile.
For those who haven't read the novel, here's a quick summary taken from Janine's review at Dear Author: this
debut YA fantasy [...] set in a world based [on] Renaissance Europe, is both a coming of age story and a tale of a clash between two species. Sixteen year old Seraphina Dombegh, the heroine of the novel, is the child of a human father and a dragon mother. The secret of her maternity is one she must hide at all costs.

In this world, dragons are a logical, emotionless species, but they can take human shape and while doing so, experience human emotions – something they guard against vigilantly. A truce exists between the two species but there is also a lot of tension and bigotry. Most dragons in Goredd, Seraphina's country, are required to wear a bell on their shoulder, although scholarly dragons are exempt.

From Seraphina's narration, we learn that her father Claude had no idea his wife Linn was a dragon until Linn died giving birth to Seraphina. At first glance Seraphina appeared to be a normal human baby, and it was not until she was eleven that she discovered that she is not what she appears to be.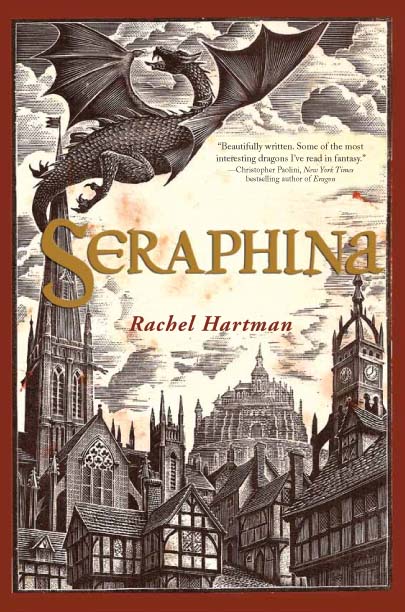 I'd have identified it as a fantasy version of the late Middle Ages, but that's probably because in the Castilian context the fifteenth century is considered medieval. Random House describe the novel as being set in "an alternative-medieval world" and, although I'm no expert on this, the buildings on the cover look Gothic or Tudor to me.
Whether alternative-medieval or alternative-Renaissance, the dating of the setting is, I think, rather important to the novel's depiction of the way the two species relate to one another. Aliette de Bodard has stated that
I guess that, insofar as you buy the setting, Seraphina and the other half-dragons are an accurate portrayal of what it's like to be mixed-race in a world where race divisions are sharp and bitter, and half-dragons are viewed as abominations. What I take issue with is the whole setup: as a metaphor for race relationships (and, even if this wasn't deliberate, the metaphor sort of naturally bubbles up when the book tackles subjects like interspecies breeding, interspecies prejudice and other related stuff), this is freaking old-fashioned. It might have been the case in my grandparents' generation (and even then, did we genuinely have two races at each other's throat in such a non-subtle way?); but it's certainly never been my experience. In a similar way, prejudice here is outright ugly and blatant: people throw "abomination" very quickly at half-dragons (and at dragons), and Seraphina herself is very much aware of this–even doubting at times that she has a right to exist.
Firstly, in my grandparents' time we did indeed have "two races at each other's throat in such a non-subtle way": they lived through the Second World War, a time when the supposed differences between "Aryans" and Jews were elaborated in considerable detail. Secondly, if Seraphina is set in an alternative-medieval world then of course it may seem "freaking old-fashioned" but
In medieval parlance, the term 'monster' was [...] applied specifically to non-Christians, all of whom shared a common monstrous flaw: the failure to embrace the true Christian faith. So even though they possessed an extremely well-developed set of monotheistic beliefs which provided the infrastructure for Christianity itself, the Jews were viewed as idol-worshipping, demonic pagans, principally owing to the Christian conviction that they were responsible for the death of Christ.

The thirteenth-century Salvin Hours contains typically monstrous portrayals of Jews in a representation of Christ before Caiaphas, the high priest. The Jews are instantly recognisable from their grotesque physiognomy, featuring dark skin, hooked noses, and evil grimaces. (Strickland)
There was also a belief that "Jews had a characteristic strong body odor, the foetor Iudaicus. [...] Another such folkloristic feature of the Jewish body was a pair of horns" (Patai & Patai 13). It is perhaps not a coincidence that Hartman's dragons can be identified by their odor.
The belief that Jews were physically different has persisted into modern times. Richard Jeffrey Newman, for example, recounts that,
In eleventh grade, my class went on a trip to somewhere that included a tour of a ship of historical importance. (I don't remember which one.) We were standing on the deck, when a group of much younger kids, probably in elementary school, came on board. One of the girls asked one of the adults accompanying them why the boys in my group were wearing those "funny hats." The adult explained that they were called yarmulkes and it meant we were Jewish. "Oh," the kid said, a tone of wonder completely bereft of irony creeping into her voice. "Then where are their horns?"
If Jews were really readily identifiable by their physical appearance, however, it would presumably not have been deemed necessary to impose particular types of clothing which would act as visible markers of difference. As Hartman herself related in an essay written in 2001, in the Middle Ages it was frequently the case that
Local laws required Jews, "Saracens," and sometimes even Christian deviants to wear distinctive clothing, or markers on their clothing, so they could be readily identified. Again, the details varied from community to community. For Jews, the markers most often consisted of a round patch, usually yellow, about the size of a human palm, to be displayed prominently upon the front of the garment. They could sometimes get out of wearing it -- for a fee, of course. Muslims were marked with a yellow crescent. In fact, visible religious identification may have begun in Islamic countries as a means of identifying those who were exempt from heeding the call to prayer. In Christian Europe, however, lawmakers were more interested in segregation, in preventing intermarriage, and in increasing the revenues brought in by tolls and taxes levied exclusively on non-Christians.
The obligation to wear markers such as these was, of course, revived by the Nazis and, albeit in a much more benign form, concerns about Jews' ability to "pass" continue to be expressed. In 2008 "The Girl Detective" posted at Feministe that:
I've written before on how angry I was when fellow progressives began to inform me that while some Jews consider themselves white, it's only because they've assimilated into white culture. They never explained what white-looking Jews actually are, if not white, but the message was always clear: if we Ashkenazi (Eastern European) Jews think we're white, well, it's just because we wanted some of that tasty privilege so badly that we suppressed our real identity to get it. [...]

Here's what's really toxic about the idea that an Ashkenazi like me isn't what she says she is: it paints us as infiltrators or spies, sneaking into white society so that we can get our hands on what doesn't belong to us. From a white point of view, this turns us into something threatening, a presence that has to be identified and dealt with. (I still remember the anecdote a Jewish boyfriend's mother told me: when they moved, their new neighbor felt it necessary to warn them that the family down the block was Jewish. "Well, we'll fit right in," my boyfriend's mother responded. The neighbor didn't speak to them again.)
Aliette de Bodard points out that "Some of us (white/SE Asians mixed-race people, for instance) simply never have this option, and we live our entire lives with what we are writ clearly on our faces and bodies. This is, of course, true. But many Jews have had this "option" and, in the past, were set apart by methods akin to the bells worn by Hartman's dragons when they are in human form. What de Bodard's comments demonstrate, I think, is that there is no one experience of being "mixed race" but, by the same token, de Bodard's experience does not invalidate the experiences of those who, like Seraphina, are able to conceal their "otherness." In addition, the historical sources on which Hartman is drawing suggest to me that, if "Seraphina is [...] oddly obsessed with 'passing'" this is not, as de Bodard suspects, simply because "it's a US book and this has always been a huge issue in the US."
----
de Bodard, Aliette. "Seraphina, full-blood prejudice and pervasive racial passing." 14 February 2013.
Hartman, Rachel. "Sometimes a Codpiece is Just a Codpiece: The Meanings of Medieval Clothes." Strange Horizons. 22 October 2001.
Janine. "REVIEW: Seraphina by Rachel Hartman." Dear Author. 16 January 2013.
Newman, Richard Jeffrey. "What We Talk About (And Don't Talk About) When We Talk About (And Don't Talk About) antisemitism and Israel - 1." Alas A Blog. 19 January 2009.
Patai, Raphael and Jennifer Patai. 1975. The Myth of the Jewish Race. Detroit: Wayne State UP, 1989.
Strickland, Debra Higgs. "Monsters and Christian Enemies." History Today 50.2 (2000).
The Girl Detective. "On Being Jewish and White." Feministe. 7 July 2008.