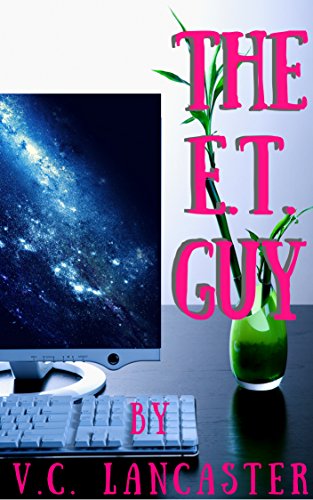 Someone mentioned an alien romance on Twitter, and I was curious. The title included a pun, the review mentioned a beta hero, and so I decided that this sounded like a fun book to try. Several hours later, having read both The E.T. Guy and its sequel, The New Guy, it was obvious that they're not just about how clueless scaly guys from outer space, with alien mating practices and sexual organs, adapt to human culture while working in IT and the Enquiries department of a branch of government.  As is so often the case with popular culture, the escapism is inextricably linked to the political, and the author, V.C. Lancaster, has written a post which saved me the trouble of speculating about whether or not this was intentional:
The E.T. Guy was semi-politically motivated given the situation in Syria when I wrote it. Since then, Trump has been elected, and he actually did try to effectively close America's borders, and the situation in Syria and around the world has not particularly gotten better. In Syria, it's hard to quantify 'bad' and 'worse', so I won't say it's got worse. I can't pretend that I am anything but pro-immigration, nor do I want to, but I hope that I would write these books anyway because I like the story.

I had a moment a few months ago when I thought "How can I continue? How can I write about refugees when the real world is like this?" and my answer was, go bigger. Say it. Say what you see. Make it political. Try to do good. Try to change minds, convince hearts. I know it's just a mid-range Kindle romance about aliens, selling for a few quid, but if I can make just a couple of people more compassionate, then it's worth it. And will I mind if Trump's army boycott the book? Not really. I'll miss the money, but I'm not going to collaborate with them. Good riddance.

But at its heart, [the second book, The New Guy] it's still the same story I thought of last year, before any of this happened. It's still going to be about Ro and Maggie. This book is going to be full of stuff I would consider a hard sell for a Kindle romance about aliens anyway. The only thing I don't mind revealing now is that I want to give Ro hot pink highlights on his scales and eyes. He's not going to be much of a rough-tough alpha, though he is going to have his moments. This book is going to touch on issues of masculinity as well as politics. Maybe I'm overreaching, but it's my book and I'm going to write it the way I want, so there.
I don't usually mind including spoilers in my posts, since I write analysis rather than reviews, but in this case, since the book was published so recently, I don't want to say anything about how the second book "touch[es] on issues of masculinity." Also, this is an ongoing series, so I'm not sure how the issues around immigration will play out. One anti-immigrant-alien politician has already made an appearance.

I don't think elaan, a commenter at Smart Bitches Trashy Books, is alone in "wondering how recent politics wld/if show up in subsequent romance novels": if you're interested in how contemporary politics are influencing the romances authors create, this series joins the Rogue Desire anthology in answering that question. Anyone come across any other romances which are clearly exploring the issues raised by contemporary politics?