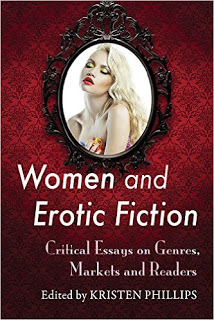 Kristen Phillips recently posted me a copy of Women and Erotic Fiction: Critical Essays on Genres, Markets and Readers, an essay collection she edited. Those essays discuss and explore a wide range of texts but it is the publication of, and responses to, Fifty Shades of Grey, which has focused attention on women's erotic fiction. Of course, as Phillips notes,
popular erotic fiction has a significant twentieth-century history as an element of Western culture's popular romance fiction genre. Contextualizing books like Fifty Shades of Grey within this history does more than encourage us to be cynical about the recent characterization of women's popular erotic fiction as a sudden, new sensation. Rather, it allows us to [...] begin asking why and how women's popular erotic fiction suddenly entered discourse as a "problem" and an object of scrutiny at this particular cultural moment. (Phillips 5)
One response to FSoG and other erotic texts for and/or by women, has been to treat it
like "pornography": it is understood to be embarrassing and shameful, and there are certainly ideas in circulation about how some kinds of women's erotic fiction are harmful to women readers (specifically BDSM fiction, as Tanya Serisier discusses in this volume). However, anxieties about the harm caused by women's erotic fiction are complicated by two competing ideas: firstly, that women's sexual enjoyment is not to be taken seriously (it is often seen as something embarrassing, silly or humorous rather than a pernicious social harm), and secondly, that women's erotic fiction is empowering for women and represents an authentic expression of female sexual desire. (7)
A note of caution about this third view is imparted by reference to
Michel Foucault's insight that the compulsion to speak about sex, which is always constructed as a liberation, in fact serves to bring sex into discourse such that it can be subjected to surveillance and control. (Phillips 5)
The
exercise of social power behind a veneer of liberation [...] is a recurring theme across the essays in this volume: see in particular the essays by Eva Chen [on "Contemporary Female 'Body Writing' in China], Jude Elund [on "Feminized Same-Sex Practice as Middle-Class Fantasy"] and Carole Veldman-Genz [on "The Romance of M/M and M/M/F Romantica"]. (11)
She adds that
In making sense of the mainstreaming of women's mass market erotic fiction across Western culture since approximately 2011, it is important to notice that even as this material is being characterized in the popular media as "dirty," subversive and threatening to cultural morality [...], the kinds of texts that are most visible are often, in fact, quite socially conservative in their presentation of the relationship between romance and sex. [...] That is, the privileging of certain kinds of texts [...] tends to reinforce the idea that women prefer their erotic content blended with romance. (7-8)
Then again, given that "An association between eroticism and transgression of taboos is [...] deeply embedded in Western culture" (14), I assume it could also be an "exercise of social power behind a veneer of liberation" to insist that women should not prefer their erotic content blended with romance.
In other words, it would seem that whether women do or don't have sex, do or don't speak/write about it and irrespective of what type of sex we do have (if we have it), we're liable to face criticism from someone.
-----
I've written a post about each of the essays in the volume and linked to each below. Some of the posts are fairly detailed while others are just brief descriptions.
One theme which emerged for me was the examination of the extent to which sexuality and gender are shaped by culture/society; given that sexual desires and gender identities are not wholly "hard-wired" by nature, to some extent they can be reinforced or reshaped by erotic fictions.
I found Victoria Ong's essay of particular interest because although it's not about popular romance, its discussion of different attitudes to, and beliefs about sex and the strength (or lack) of emotions it's assumed to generate possibly helps explain why erotic romance authors believe they can convincingly depict the development of a committed, long-term relationship primarily via sex scenes.
Hardy, Simon. "From Black Lace to Shades of Grey: The Interpellation of the 'Female Subject' into Erotic Discourse", pages 25-41.
Morrissey, Katherine E. "Steamy, Spicy, Sensual: Tracing the Cycles of Erotic Romance", pages 42-58.
Ziv, Amalia. "Refiguring Penetration in Women's Erotic Fiction", pages 59-78.
Chen, Eva. "Erotic Pleasure and Postsocialist Female Sexuality: Contemporary Female 'Body Writing' in China", pages 79-95.
Booth, Naomi. "Good Vibrations: Shaken Subjects and the Disintegrative Romance Heroine", pages 99-116.
Serisier, Tanya. "On Not Reading Fifty Shades: Feminism and the Fantasy of Romantic Immunity", pages 117-132.
Veldman-Genz, Carole. "Selling Gay Sex to Women: The Romance of M/M and M/M/F Romantica", pages 133-149.
Elund, Jude. "Permissible Transgressions: Feminized Same-Sex Practice as Middle-Class Fantasy", pages 150-66.
Kustritz, Anne. "The Politics of Slash on the High Seas: Colonial Romance and Revolutionary Solidarity in Pirates Fan Fiction", pages 169-186.
Santos Fermin, Tricia Abigail. "Male Homoerotic Fiction and Women's Sexual Subjectivities: Yaoi and BL Fans in Indonesia and the Philippines", pages 187-203.
Ong, Victoria. "Selling Authentic Sex: Working Through Identity in Belle de Jour's The Intimate Adventures of a London Call Girl", pages 204-24.
Niccolini, Alyssa D. "Sexing Education: Erotica in the Urban Classroom", pages 225-39.
---
Phillips, Kristen. "Introduction: Shattering Releases." Women and Erotic Fiction: Critical Essays on Genres, Markets and Readers. Ed. Kristen Phillips. Jefferson, North Carolina: McFarland 2015. 1-21.