From 2005 to 2009 Mills & Boon published a series of "Regency Lords and Ladies 2-in-1 reprints" which featured cover art supplied by Sotheby's Picture Library. Here are volumes 9 and 10: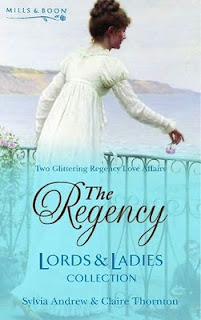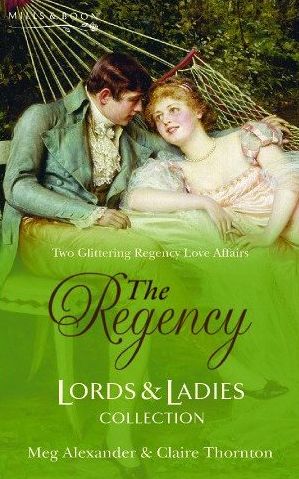 The cover on the left shows A Favour by Edmund Blair Leighton (1852-1922) and the one on the right features part of A Romantic Interlude by Frederic Soulacroix (1825-1879).
When I first saw the covers I didn't stop to wonder what the original inspiration for the paintings might have been; I just assumed that they were being given an entirely new purpose. I still don't know any details about these particular paintings but it really should have occurred to me that the relationship between art and romantic fiction is a long one. I was reminded of this recently when I came across something else provided by Sotheby's. In the catalogue notes for Sir Lawrence Alma-Tadema's An Eloquent Silence, which formed part of a sale of 19th-century European art, held in New York on the 4th of May 2012, one can find the following:
In 1890, the year An Eloquent Silence was painted, Alma-Tadema and his family were staying at Georg Ebers' summer home at Tutzing in Bavaria [...]. The idyllic scene of a white marble balcony under cyan skies and over the deep blue Mediterranean sea presented here could not have been more different than the reality of Kaiser Wilhelm's Europe, but the writing of George Ebers provided ample inspiration for the artist. Ebers was an Egyptologist who is perhaps most famous for discovering and translating the ancient medical document now known as the Ebers Papyrus, but he also sought to popularize ancient lore through historical romance novels, creating the now popular genre and titles such as An Egyptian Princess, Bride of the Nile, Cleopatra and, of particular note, A Question.

Published in 1882, A Question (Eine Frage) was intended to be a literary illustration of the idyllic ancient world created by Alma-Tadema and based on the relationship of the figures in his 1876 canvas, Pleading [...]. In fact, the book features an etching of the painting as its frontispiece. In 1883, one year following A Question's publication and a testament to the collaborative spirit between artist and author, Alma-Tadema painted a variation on the composition and titled it Xanthe and Phaon, named after the two lovelorn protagonists of Ebers' novel. The theme of courtship continues throughout Alma-Tadema's oeuvre, but An Eloquent Silence is a perfect depiction of Ebers' scene of two lovers described as sitting on a marble bench, surrounded by brightly colored flowers overlooking the sea. In chapter VI, it reads: "Then she again gazed into the distance. Phaon shook his head, and both remained silent for several minutes. At last he raised himself higher, turned his full face toward the young girl, gazed at her as tenderly and earnestly as if he wished to stamp her image upon his soul for life."

Alma-Tadema's patrons may not have been familiar with the romantic writing of George Ebers, but they appreciated the technical mastery and attention to detail that he brought to all of his works.