In Dangerous Men, Adventurous Women a number of romance authors attempted to explain the appeal of the popular romance novel. One of them, Susan Elizabeth Phillips, wrote that she "loved" the "historical romances [...] sometimes labeled 'bodice rippers,' not without a certain justification since many of them contained narrow-eyed heroes who [...] committed some rather violent sex acts on the heroines" (53) and, she added,
I can only shake my head in bewilderment when I hear the romance novel criticized for depicting women as being submissive to domineering men. Are the critics reading the same books I am? What is the ultimate fate of the most arrogant, domineering, ruthless macho hero any romance writer can create? He is tamed.

By the end of the book, the heroine has brought him under her control in a way women can seldom control men in the real world. [...] He is the mightiest of the mighty, the strongest of the strong. But, because he has been tamed by our heroine, because she exerts such a powerful emotional stranglehold over him, his almost superhuman physical strength is now hers to command. (57-58)
Phillips is quite explicit here in acknowledging that these relationships should not be models for relating to men "in the real world": "This fictional 'tough guy' hero is the sort of man I would never permit in my real life" (56). He is, then, a fantasy, and as Ashwin, the eponymous hero of Kit Rocha's Ashwin observes, "a fantasy was different than a plan. A fantasy meant disregarding inconvenient realities and embracing improbabilities."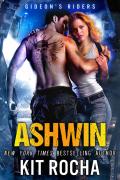 Ashwin himself is an updated, twenty-first-century version of the heroes who so thrilled Susan Elizabeth Phillips. He is a super-soldier, supposedly genetically engineered to be emotionless, but since popular romance has moved on from the days of the bodice-ripper he does not behave sexually like the heroes of those novels. However, he recalls that in a previous relationship the woman had wanted him to cater
to her fantasies. Sinking his hands into her hair to play the conquering beast had been a simple enough role, even for him. But he'd always puzzled over the apparent contradiction—why a woman with so little power would dream of having him take away even those scraps.

Now he understood. [...]  The fantasy was about this overwhelming madness inside him. About being desired by the monster so completely that you owned him. So he'd fight for you, kill for you. Protect you.
The novel, Ashwin, is also a fantasy, of a similar type: Ashwin's obsession with the heroine, Kora, does not lead him to abuse her sexually, but nonetheless, by the end of the novel, as in the explicitly sexual fantasy he described earlier, though this time only wrapped in one layer of fantasy (that of the novel) rather than being a (sexual) fantasy within a (novelistic) fantasy, "Ashwin would always be a bit of a monster. But he was her monster, utterly loyal, completely devoted."
----
Phillips, Susan Elizabeth. "The Romance and the Empowerment of Women." Dangerous Men and Adventurous Women: Romance Writers on the Appeal of the Romance. Ed. Jayne Ann Krentz. Philadelphia: U of Pennsylvania P, 1992. 53-59.
Rocha, Kit. Ashwin. Self-published. 2017.