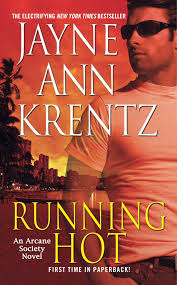 There's a short metafictional passage in Jayne Ann Krentz's Running Hot which manages to make quite a few points about the appeal of popular romance, and implies it isn't less realistic than crime fiction:
He glanced at the cover of her book. The illustration showed the shadowed profile of a woman. She had a gun in her hand. The title was equally ominous.
"Looks like a murder mystery," he said.
"Romantic-suspense," she corrected.
"Meaning?"
"Meaning it's got both romance and a couple of murders in it."
"You like books like that?"
"Yes."
He smiled. "Thought you said you weren't a romantic."
"I'm not." She turned another page. "Doesn't mean that I don't like to read about romance."
"What about the murders?"
"They get solved by clever sleuthing on the part of the hero and heroine. It's very satisfying."
"You know, in real life the motivation for murder is usually a lot more straightforward than it is in fiction," he said. "Somebody gets pissed off, picks up the nearest gun and shoots the guy who pissed him off."
"Really?" She did not seem particularly interested.
"What's more, the majority of cases get solved because someone talks, not because of forensics or clever sleuthing."
"If I want real police work, I'll read the newspapers, not a book," she said.
"Probably a good idea. Let me know how that one ends."
She turned another page. "I already know how it ends."
"You read the ending first?"
"I always read the ending first before I commit to the whole book."
He looked at her, baffled. "If you know how it ends, why read the book?"
"I don't read for the ending. I read for the story. [...] Life is too short to waste time on books that end badly."
"By badly, you mean unhappily, right?"
"As far as I'm concerned, the two are synonymous." (152-154)
----
Krentz, Jayne Ann. Running Hot. 2009. New York: Jove, 2010.