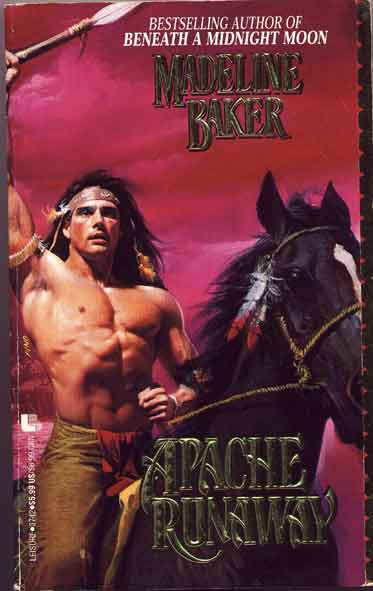 It seems to me that the heyday of the Native American historical romance is past. I may well be wrong, though, given that I'm in the UK and am therefore dependent on US review sites and the vagaries of Amazon.com's categorisation system for my information about this. In the 1990s, however, this area of romance was flourishing and attracting academic attention.
According to Peter van Lent, the
image of the Native American male as sexy has grown out of earlier archetypes [...]. In past centuries, the vision of violent sexuality was pretty standard treatment of Native men in popular genres such as the Indian captivity narratives. Today, however, Native American men are most often portrayed as sexual in "good" ways. Two familiar labels come to mind: those of "Noble Savage" and "Fearless Warrior."(211)
He noted that
In current popular culture popular culture the exoticism of the Native male is always carefully controlled. For example, most of the heroes of the Indian romance novels are of mixed blood - "half breeds" [...]. This convention provides a safety net against several sexual pitfalls. First, it checks the exotic image from being too alien and keeps it well within the bounds of "tall, dark and handsome." Second, it also avoids any squeamishness about miscegenation on the part of the reader. Since the hero is half-white, the romantic-sexual bond is not truly interracial and, once again, the "half breed's" appearance can be quite comfortably Caucasian. (216-17)
If "half-breed" heroes were indeed much more common (and I don't know about this first-hand because, as mentioned, I'm in the UK and this isn't a sub-genre that's been particularly common here), it would suggest that authors and readers had reasons for preferring them to heroes who were wholly Native American. I'm not sure I'd agree with van Lent that the bond between a half-White hero and a wholly-White heroine is "not truly interracial" but I suppose such a pairing would narrow the supposed cultural and racial difference between the protagonists. Certainly it would seem to allow authors to pick and mix the elements they find most attractive in both cultures/races: in Colleen Faulkner's Forever His (1993) "Harrison DeNay [...] is part Shawnee" (Wardrop 68) and
Faulkner makes it clear that Harrison does not represent the typical Shawnee. [...] Instead, Harrison represents the best of two worlds as evidenced in the scene in which he casts off his buckskins to impersonate a British officer: "In his coat and breeches with his hair pulled back in a queue he appeared nothing of the savage she had found in that Indian village. The question was which did she prefer?" (144). The answer is that she gets both: a sophisticated man of taste and intellect in the European tradition who is, unlike the European man, unconcerned about property and able to cry over the welfare of his son, more "introspective and expressive in his feeling" (144). (Wardrop 69)
S. Elizabeth Bird states that even when the hero of one of these romances
is full-blood, he is often seen as more rational and realistic than other men of his tribe, who have a tendency to raid, pillage, and fight among themselves when not listening to his wise advice. He is frequently seen as the voice of progress who realizes change is coming. In other words, the American Indian hero is a wonderful fantasy figure for the White reader. He is just wild enough to be exciting, but still civilized enough to be acceptable. (70)
A major advantage of Native American cultures, as depicted in these novels, is that they offer White heroines "increased freedom and choice and an equal partnership with her husband" (Wardrop 71). That the association with freedom is a key element of the appeal of the Native American hero is suggested in an essay by Cassie Edwards in which she stated that
I try not to write about the Indians during the times they were confined on reservations. This gives me less freedom of plot because while the Indians lived the sedentary reservation life, they had generally lost their pride because they were no longer able to fight for their rights. If I write about an Indian hero who is not confined to the reservation, he is allowed to perform courageously - he is free. (457)
By being selective in various ways, romance authors could therefore craft romances featuring Native American (or half Native American heroes) in which
the Native American male [...] offers as symbolic capital a utopian society in which women are valued for their social contributions; where they are sexually assertive members of a group distinctive for cooperation and solidarity; where women and men are helpmates within a (fictionalized) fairly androgynous division of labor. (McCafferty 51)
In addition,
In the choice of Native American (rather than African-American, Chicano, Puerto Rican, Filipino, or Japanese American) lover, a tension concerning romantic love's vulnerability to economic instability is avoided. The myth runs that the Native American man lived comfortably off the land, never enslaved by master or lunchbucket. The bounty of the earth, plus his hunting prowess, enabled him and his dependents to live a satisfactory if rough pastoral for thousands of years. In short, the Native lover is a good provider. (McCafferty 51)
---------
Bird, S. Elizabeth. "Gendered Construction of the American Indian in Popular Media." Journal of Communication 49.3 (1999): 61-83.
Edwards, Cassie. "Indian Romance." How to Write a Romance and Get It Published. Ed. Kathryn Falk. New York: Signet, 1990. 455-58.
McCafferty, Kate. "Palimpsest of Desire: The Re-Emergence of the American Captivity Narrative as Pulp Romance." Journal of Popular Culture 27.4 (1994): 43-56.
van Lent, Peter. "'Her Beautiful Savage': The Current Sexual Image of the Native American Male." Dressing in Feathers: The Construction of the Indian in American Popular Culture. Ed. S. Elizabeth Bird. Boulder, Colorado: Westview, 1996. 211-227.
Wardrop, Stephanie. 'Last of the Red Hot Mohicans: Miscegenation in the Popular American Romance', MELUS 22. 2 (1997): 61-74.